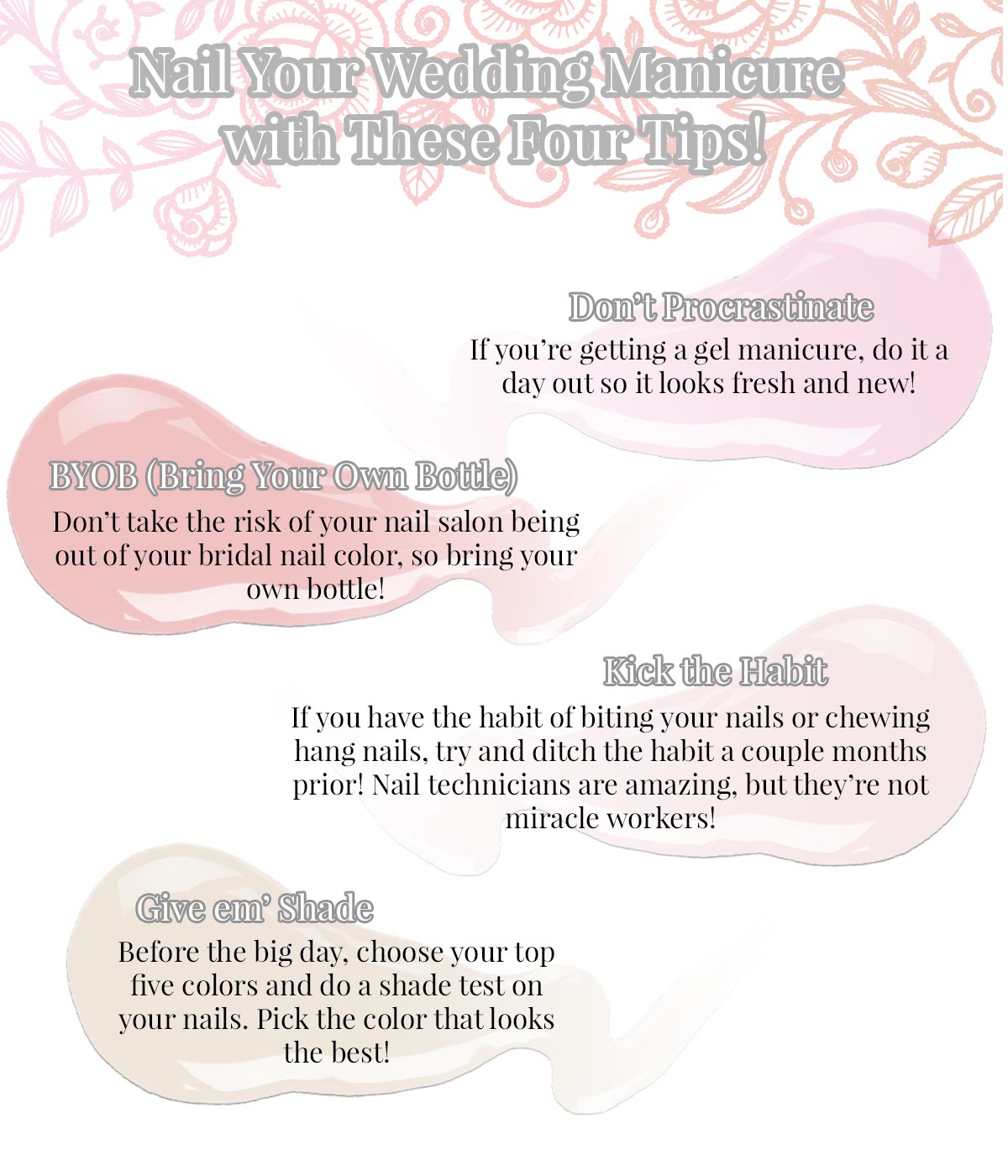 In our last blog, we talked about different polish shades and styles for every bride. Just choosing a color can be a battle in itself, because you want everything to be perfect down to your nail polish choice. Whether you have beauty services at home or are going out, follow these tips to avoid a wedding day blunder, and nail the perfect bridal manicure.
At the salon
If you've decided on a manicure at a nail salon consider the following:
Get gel nails a few days in advance – gel nails are beautiful — what's not to love about instant dry time and chip-free nails — and you're probably spending good money on them, so keep them looking their best by getting a gel manicure a few days before your wedding. The reason for the timeframe is, gel nails start to lose their luster couple days after. Schedule an appointment for a day out to avoid wear and tear, and for beautifully crafted bridal nails.
Bring your own bottle – If the color you've chosen is beloved at your nail salon, procure your own bottle to ensure you get that nail color for your big day. It's also a good choice to bring your own bottle in case the color is no longer there, or the bottle is old.
Buy in twos – when you've found the ideal shade, buy one for your nail salon and one for your wedding day emergency kit if you chip a nail.
Think through nail art – Nail art, is an art. It's beautiful and unique, and can turn any manicure from old and boring to fresh and whimsical. But, think through your nail art. If nail art is something you don't normally opt for, either do a trial or skip it altogether. You don't want to approach your wedding day with something you hate, so just think it through.
Maintain your hands before your manicure – Do you bite your nails or chew on hangnails? Do these habits leave your nails and hands looking a little rough? If you do have these habits, yes getting them done professionally will help, but nail technicians are not miracle workers. Try and kick this habit a couple of months before your wedding to ensure lovely, healthy nails.
Nails at home
If you love doing your own nails, here are a couple tips to contemplate:
Give em' shade – do a shade test at home on one hand with the various shades. Oftentimes, you'll love a color, but try it, and end up not liking it. Certain nail shades look better on different skin tones, and sometimes you just have to test it out. Afterall, you try on different dresses, why not different nail colors?
Do a test run – Once you've selected the perfect shade, do a test run. After all, practice makes perfect!
Nails at home and by a professional
If you're thinking of getting a manicure for your wedding day, but don't want the hassle of going to the salon, connect with Londyn Artistry today! Londyn Artistry not only does nails, but all your wedding day rituals including hair and make-up.
Contact Londyn Artistry today!